My name is Mike Dawes, I'm a retired Cambridge UK Chartered Engineer (CEng/PE) and classic car enthusiast. I've designed the unique EP, GB and US patented* DIY-friendly MR1®** car lift. When lowered, this comprises two long shallow ramps supported by pivots at the upper ends. The lower ends of the ramps are connected by a rigid lifting beam. When a car has ascended the ramps, the lifting beam, ramps and car are raised together using a conventional trolley/floor jack, which slots into a central gap in the beam. The raised ends of the ramps are then supported by axle stands or blocks, and the trolley jack removed.
The MR1® is the simplest known lift/ramp for raising a car horizontally on all of its wheels. It gives a clear floor space to work under a car, adjusts to a car's width, is ideal for use in a narrow/low head-room garage, and also enables the bodywork to be suspended for work on the wheels and other parts at a comfortable height.
To appreciate the above and many more benefits of the MR1®, please first consider the following limitations of conventional methods and lifts for raising a car:
You may spend a long time using small jacks, stands and blocks to lift a car. You then squeeze underneath and work with your nose almost touching it in a cramped and potentially dangerous space. You may tire of this and look for a quicker, roomier and safer method;
However, most professional garage post lifts are expensive to buy and maintain. They are also wider than our cars, may obstruct the doors, and may be impractical for a garage that is congested, low headroom, and/or designed for a single-car. They need electricity to operate;
Common scissor lifts obstruct the space under a car. Each time they are used they need adjusting to lift at safe jacking points to avoid damage, and also to ensure a balanced and safe lift . This is difficult inside a narrow garage space, especially for low ground clearance sports cars, which may be unable to drive over the height of lowered scissor lifts without additional ramps or excavations in the garage floor. Additionally, cars with narrow tracks may be unable to drive over the lowered width of a scissor lift. The stability of a scissor lift decreases as it rises. They need electricity to operate;
The scary drive-on tilting (see-saw) lifts have structures that restrict sideways access underneath, and can be difficult to safely exit and enter a car driven onto them;
Long shallow detachable ramps leading to horizontal platforms restrict sideways access, involve much handling, and may cause a storage problem;
Standard car ramps raise only a pair of wheels - leaving a car inclined, which gives limited access underneath and may make it impossible to drain all the old oil and other liquids from a car when servicing. These ramps are generally quite steep (20 to 30 degrees), which may interfere with a low ground clearance car. They are also out-of-view as you drive up the ramps (which may move), so you really do need another person to guide you.
The MR1® car lifts avoid
the above problems and are:
Safe and easily operated by one person in less than 2 minutes;
Easy to drive up the shallow (6 degree) guided ramps (Scroll down to Photo 1). With help, you may also push or pull a car up the ramps. Descending is even easier - if you wish, by gravity alone;
At a convenient and safe height for entering and exiting a car;
Raised to horizontal and lowered with the single use of a trolley or floor jack;
Useable with anti-slip rubber wheel chocks, so a car may be moved safely along the raised ramps for jobs such as slowly rotating the engine and setting valve clearances;
Able to provide a clear floor space for working under a car (Photo 2) and a good height for working on top or inside;
Used with standard axle or jack stands, car creepers and wheel jacks;
Excellent for car servicing, repairs, cleaning, display, storing a car on when the space inside a garage is limited, providing extra security, or decreasing any risk of damage to a car by flooding;
Adjustable to match the width of a car, so may be used inside a congested garage in which there is barely room to enter and exit a car;
Low maintenance and designed to last a lifetime;

Portable, so may be easily moved inside or outside a garage;
Easily assembled or taken apart for storage or transportation;
Also useful for working on motorcycles - up to four at a time;
Easily to modify for three-wheeled vehicles, including small aeroplanes, and even boats!
MR1® lifts for 4-wheeled Cars
Three high quality standard versions of the lift are available for sale:
1. The MR1 Classic lift - for small and medium size classic cars;
2. The MR1 Modern lift - for all the above, plus the generally wider modern cars and larger classics, and;
3. The MR1 Heavy lift - for all the above and exceptionally heavy and large cars.
MR1 Bespoke lifts may also be available for smaller, larger and/or heavier cars.
All the standard lifts raise a car's ground clearance by 350mm (14in). For example, a car with a ground clearance of 150mm (6in) has it raised to a total of 500mm (20in), which is a good compromise for work on the underside and topside. This is a comfortable height for using a mechanics creeper under a car, with your head and body supported and everything within arms reach (Photo 2). The extra height may also save a lot of backache when working on the topside, inside and under the bonnet/hood. To give improved access under the entire length of the raised lift and car, the lifting beam may also be removed (Photos 6 and 7).
As shown in Photo 3, small screw operated wheel jacks may be safely used on the raised ramps to remove individual wheels. Alternatively, you may place stands under the raised car in contact with the axles or other safe jacking points, and then lower the ramps to leave both rear wheels free (Photo 4). That is, a bit like a scissor jack, but at a comfortable sitting height. A similar procedure, after reversing the car onto the lift, enables both front wheels to be suspended (Photo 5). It follows that stands and bottle jacks on the ground may be used to support other parts of a car without the need for a bridging beam between the ramps. A wheeled transmission jack like the Sealey TJ150E is ideal in this situation. See www.sealey.co.uk.
Please note that the design of MR1 car lifts is under constant review, and consequently the latest improvements are not necessarily shown in the following photos. For example, all of the bolted pivots have been replaced by sturdier, more wear resistant and quicker to assemble/disassemble 'hook-on' pivots.
The maximum recommended weights and dimensions of the vehicles/cars to be used with these lifts are:
MR1 Classic
Weight 1500kg (3300lb) - Kerb weight
Wheelbase 2700mm (106in) - The distance between the centres of the front and rear wheels
Track 1500mm (59in) - The distance between the centres of width of the two front or two rear tyres.
Tyre width 205mm (8.1in)
MR1 Modern
Weight 1850kg (4070lb)
Wheelbase 3000mm (118in)
Track 1700mm (67in) - For lower weight cars we can increase this!
Tyre width 305mm (12in)
MR1 Heavy
Weight 2600kg (5720lb)
Wheelbase 3000mm (118in)
Track 1700mm (67in) - For lower weight cars we can increase this!
Tyre width 305mm (12in)
MR1 Bespoke
Shorter, longer or stronger MR1 lifts - made to your requirements
The standard lifts are adjustable up to the maximum track widths stated, and may be used with car manufacturer's stated ground clearances down to approximately 75mm (3.0in). You may also put planks on the surface of the ramps to raise the car if it has an even lower ground clearance, or an air dam ahead of the front wheels. Concerning the recommended tyre/tire width, note that the Classic and Modern/Heavy lifts have ramp widths of 310mm (12in) and 410mm (16in), respectively, which means that the minimum recommended clearance is 53mm (2.1in) each side of the tyre. Please compare the above MR1® data with that in your car Owner's Handbook, or click on www.carfolio.com/specifications, and determine which of the above car lifts best meets your needs.
Will my garage be large enough for the standard lifts? To determine if the internal length of your garage will accommodate a car on the Classic, Modern or Heavy lifts, please scroll down to just above the first photo and click on img121.pdf. The inside width of your garage will not be a problem provided you have room to enter and exit your car. The recommended minimum internal height of your garage is your car's height plus 500mm (20in). To save garage space you may store your car on the lift with the ramps raised or lowered. When lowered, your car will be parked on a gentle slope of 6 degrees, which is less steep than many public roads! However, if you want to take your lift apart, this is easy to do, and the ramps may be stored to the side or under the car if it has a ground clearance of more than 125mm (5in).
What trolley/floor jack and axle/jack stands do I need for the standard lifts? Each item should be specified for at least 1.5 tonne. The trolley jack needs to be less than 320mm (12.5in) wide across the front wheels, have a minimum lift height of less than 100mm (4in) and a maximum lift height of at least 440mm (17in). The axle stands need to be adjustable to include heights of approximately 300mm (12in) and 350mm (14in). An ideal combination would be a lightweight Al racing trolley jack such as the Sealey RJA2500 and a pair of Sealey VS2002 ratchet axle stands. You may also use the heavier but less expensive Sealey 2001LE trolley jack. See www.sealey.co.uk.
What are the current prices?
The MR1 Classic is from £1055.00 including UK value added tax (VAT) of 20%.
The MR1 Modern is from £1345.00 including VAT.
The MR1 Heavy is from £1435.00 including VAT.
The standard coating is painted, but a hot-dipped galvanized coating is an optional extra.
There may be discounts and/or free delivery for the lifts, depending on your address. To keep prices and delivery costs to a minimum our main manufacturers are in Barnsley in Yorkshire, Stansted in Essex, and Worcester.
Make cleaning, servicing and repairing your cars easier and more enjoyable, and save on the cost of garage bills!
How do I buy an MR1® car lift?
Call 44 (0) 1223 843006 or e-mail carliftmike@gmail.com with your name and Post Code, and any questions. We'll give you an order form with a fixed price quotation and estimated delivery date, with no obligation to proceed. Payment may be made by bank transfer (quickest), PayPal + their 3.4% fee, or cheque (slowest).
Notes
* EP2548836; GB 2485253; US 8695942; ** GB 2645369
FAQs
Q1 - Do the MR1s come with detailed instructions?
A1 - Yes, each lift is supplied with an Owner's Manual, which includes detailed assembly and safe operating procedures.
Q2 - The lifts look lightweight and the ramps appear to deflect, so are they strong enough?
A2 - Yes, the MR1s are based on thorough stress analyses and testing. However, the production MR1s are stronger and include significant improvements compared to some of the prototypes shown in the accompanying photographs. Perhaps it is also worth mentioning that all loaded structures deflect, and safe elastic deflections vary from barely perceptible in buildings to several metres (feet) at the wing tips of jumbo-jets. Thus, stiffening the MR1s to the point where no deflections are visible would simply add unnecessary weight and cost.
Q3 - Can the lifts be taken apart easily, and how heavy are they?
A3 - The lifts are easily separated into 5 components, plus 2 plastic guide posts. The heaviest components are the ramps, which presently weigh approximately 80kg (176lb) each for the Classic, and 100kg (220lb) each for the Modern and 120kg (264lb) each for the Heavy. The total weights of all the components of the Classic, Modern and Heavy lifts are approximately 210kg (462lb), 260kg (572lb), and 300kg (660lb), respectively.
Q4 - When the lifts are assembled and adjusted to the required track, do the pivoted supports have to be fixed to the floor?
A4 - No.
Q5 - Can the lifts be easily moved out of and then back into a garage for some jobs?
A5 - Yes, with a trolley jack raising the lifting beam approximately 25mm (1in) above the floor it is generally easy to slide the lift. I have also slightly raised the supports above the ground on two old skate boards, which makes moving really easy, as you may see by clicking on www.youtube.com/watch?v=zSQ6Z2CNPRo
Q6 - Can the lifts be used for both LHD and RHD cars?
A6 - Yes, they have guide post fixings for both.
Q7 - Can the lifting beam be removed from a raised MR1 lift in order to have maximum head room under its whole length?
A7 - Yes.
Q8 - Can the MR1 Modern and Heavy lifts be used for the same range of cars as the MR1 Classic?
A8 - Yes, but for small cars the lifting beam may protrude beyond the width of the ramps. You could tolerate this, or avoid it by substituting an extra lifting beam from an MR1 Classic - for cars with tracks up to 1500mm (59in).
Q9 - Can the MR1 lifts be made for heavier vehicles, three-wheel vehicles, boats, motorcycles, or with greater lift heights and/or in lighter alloy materials?
A9 - Yes, the Patents cover wide variations in application, design and materials, so we may be able to provide a bespoke design for you.
Q10 - How original is the MR1 car lift?
A10 - I arrived at my design independently, but later discovered Belgium (1952) and similar US (2002, Kwiklift) prior art. These both have rotating crank lifting beams, unlike the fixed lifting beam/box in my design, which is more simple, quicker, easier to use, more stable and safer.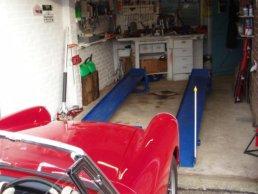 Aim the offside just inside the guide posts and drive slowly up the ramps until the front tyres touch the end stops. With footbrake on, set handbrake and switch off engine in gear or park. Exit car, place chocks behind rear wheels, roll trolley jack under rear between ramps, dock saddle into centre of lifting beam box, raise lift and car, and place axle stands under each end of lifting beam. Lower jack to transfer weight of lift and car onto axle stands, remove jack, and your car is ready for working on the underside, topside, or for simply storing it to save space. When you want to off-load your car, you reverse the loading procedure, but may choose to let gravity run your car down the lowered ramps. See it all happen by clicking on http:youtu.be/rLzCLiXxlCU.